September 6, 2016
It's an unfortunate fact that cancer touches all of our lives, but thankfully there are things we can do about it. Thank YOU for supporting the Diamond's Hope Relay teams throughout the 2016 American Cancer Society fundraising season. We are pleased to announce that 2016 is a record year! Our Relay leaders would like to tell you all about it in this video:
This is Diamond's eleventh year of having the Relay For Life as one of our fundraising focuses, which brings our grand total of donations to over $736 thousand. We could not do this without your support. Thanks for coming to our fundraisers, helping to spread the word, and buying a snack in the lobby from time to time. All of these actions have added up to make a real impact in the fight against cancer.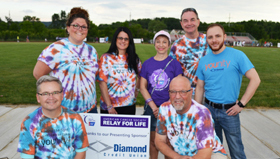 We also have a long list of sponsors, business partners and vendors who have generously supported Diamond in our mission to win the fight against cancer. Some of our top event sponsors include: Wrigley's Business Products and Services; Commonwealth Real Estate, LLC : Marshall Lytle, Broker/Owner; VBC, Consulting & Construction; Welsh Subaru of Limerick; Access (Information. Protected.); and  B&F General Machine. For a complete list of 2016 sponsors, please see the credits at the end of the above video.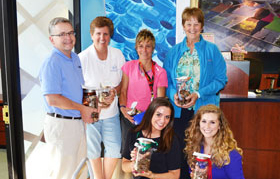 The staff and students at Blessed Teresa of Calcutta School also deserve a huge thank you. They organized a fun coin collecting contest and held their own Relay Recess this past school year. The event resulted in a donation of over $1,500. They brought the coins to Diamond for counting and told us to add the donation to the Diamond's Hope Relay Team total. They even invited us to their big Relay Recess where we watched the student presentation and received a fantastic thank you card for our help with the coins. Thank you students and teachers!
The 2016 Relay Fundraising season included: Berks County Bingo, Glow Golf, Dance and Chance (Beef & Beer), the Annual Charity Golf Invitational, Wine Tasting Event, a 2-week long Shredding Event made possible by Access,  Bark For Life, Pottstown Bingo, several Bake Sales and Hot Dog Days, Coffee and Calendar Sales, Jeans Days, and more. Thank you to the many Diamond employee volunteers and event leaders who make these events come to life. We're tired just thinking about it!
The opportunities to help fight cancer never cease!
Get your tickets for Berks Bingo on Sunday, October 2! Details on Glow Golf will also be available soon. (These events will go toward the 2017 Relay total.)
We're proud to help the American Cancer Society as they offer support to cancer patients and their families, promote prevention and early detection, and fund life-saving research. Thank you for joining us.
Making an impact in the fight against cancer…That's younity.