May 23, 2014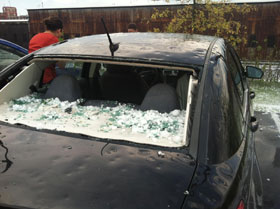 Our hearts go out to everyone who experienced storm damage to their cars or other property on Thursday, May 22nd. Diamond is here to help all of our members during this challenging time. We are experiencing higher than usual call volumes. Diamond is here to assist you and we are open normal business hours today and Saturday.
In order to help you get through this as quickly as possible, here is some information that may help you:
Please contact your insurance carrier directly with general questions and to start the claims process.
If you purchased insurance through Diamond Credit Union, please contact us at 800-593-1000.
We are available to help with any financing needs you may have including repairs, auto purchases, and more.
Thank you for your patience and understanding at this difficult time. Diamond is here to help all of our membership.