February 28, 2017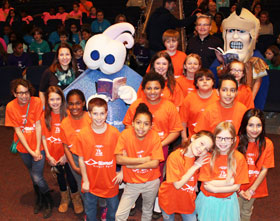 On Friday, February 25, 2017, over one hundred students gathered at the Pottstown Middle School to participate in the Pottstown Reading Olympics. Representatives from Diamond CU, including the mascot Chip, were on hand to cheer the students on. Both Chip and the Pottstown Trojan Man were there to support the students. They even got some reading in while they were there.
Diamond CU has been the sponsor of the Reading Olympics for 12 consecutive years. This helps the school to buy needed supplies, transport participants, and provide matching t-shirts for the students to show off their team spirit.
Check out this clip of the students with Chip and friends:
What are the Pottstown Reading Olympics?
The annual Pottstown Reading Olympics event encourages children from all Pottstown elementary schools to get excited about reading. They also learn teamwork skills and improve reading comprehension. The event is a rapid-recall question and answer competition. Teams of students are asked to answer questions pulled from 45 books. Pottstown holds this day-long Reading Olympics event, coordinated by Karen Neitz, at the middle school to prepare students before the larger Montgomery County Reading Olympics.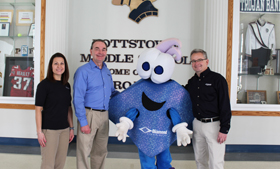 "The Reading Olympics is a great tradition for the Diamond CU Team and compliments Diamond's other work with Pottstown Schools. Our team also participates in Junior Achievement, Financial Literacy classes, and a Financial Reality Fair," stated John Faust, President/CEO of Diamond CU.
Bringing opportunity to every member of our community…That's younity.