October 12, 2016
One of the core values at Diamond Credit Union is a commitment to giving back to the local community. Promoting financial literacy and preparing students for life after high school is a big part of that commitment. Recently, the Diamond Team had a few opportunities to help local students develop life-long skills.
Pottsgrove Reality Fair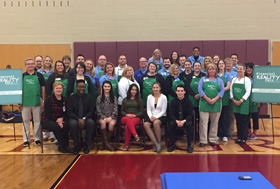 TriCounty Area Federal Credit Union invited Diamond CU to join them in holding a Financial Reality Fair at Pottsgrove High School on October 12. While we have done Reality Fairs together in the past, this was the first one at Pottsgrove High School. The students, teachers, and all of the leaders at Pottsgrove were incredibly welcoming and it was clear that they truly care about financial literacy. Over 300 students had the opportunity to participate in the event. Students received a budget sheet based on their career choice that had a predetermined salary, taxes, savings and checking account balances, and student loan payments where applicable. Participants visited 12 booths to fill in monthly costs for items such as food, housing, cell phone, etc. Once they completed their budget sheet, students sat down with a financial counselor to discuss the budget and their financial future in detail.
The Financial Reality Fair criteria was provided by the Pennsylvania Credit Union Foundation. The event was staffed prominently by volunteers from the two credit unions, Diamond CU and TriCounty FCU, with additional support from Visions Credit Union, Wrigley's Business Products and Services, and Market Street Sports Group. In total, over 35 volunteers made the event happen, including six gracious Pottsgrove students from the DECA program.
Education and Career Fair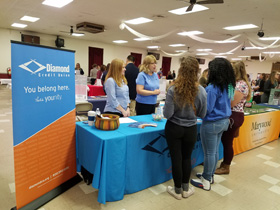 In addition to the recent Reality Fair, Diamond CU Human Resources professionals attended the TriCounty Area Chamber of Commerce Education and Career Fair. The event was held on October 6 and included students from Boyertown Area Senior High School, Coventry Christian School, Pine Forge Academy, Pottsgrove High School, Pottstown High School, Progressions School, Upper Perkiomen High School, and West-Mont Christian Academy.
The Education and Career Fair had several participating organizations, including almost 50 colleges and several local businesses. Diamond CU was there to help students with interview skills. The tips the team provided will be useful to students who are interviewing at a college and also for job and internship interviews. The students found the advice from Diamond's Human Resources professionals rewarding and a nice addition to general college planning information.
This is not the first time Diamond's HR team has helped local community members prepare for interviews. In the spring, the team helped out at the Pottstown High School Career Readiness and Mock Interview event, organized by the Greater Pottstown SHRM. Diamond CU volunteers took part in mock interviews for students and provided important feedback to help them succeed in future interviews.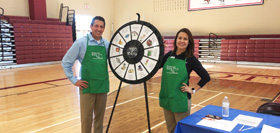 Coming to a School Near You!
The team at Diamond CU is looking forward to a lot more educational events this year including Diamond in the Classroom, the Pottstown Reading Olympics, Junior Achievement, several more Reality Fairs at other schools, and five new Alfred A. Panfile Memorial Scholarship recipients.
Helping local students develop skills needed for future success…That's younity.