December 13, 2019
Diamond values getting out into our community and giving back to the people who make it so great, especially around the holidays. These are some of the top events that our team took part in over the past few months.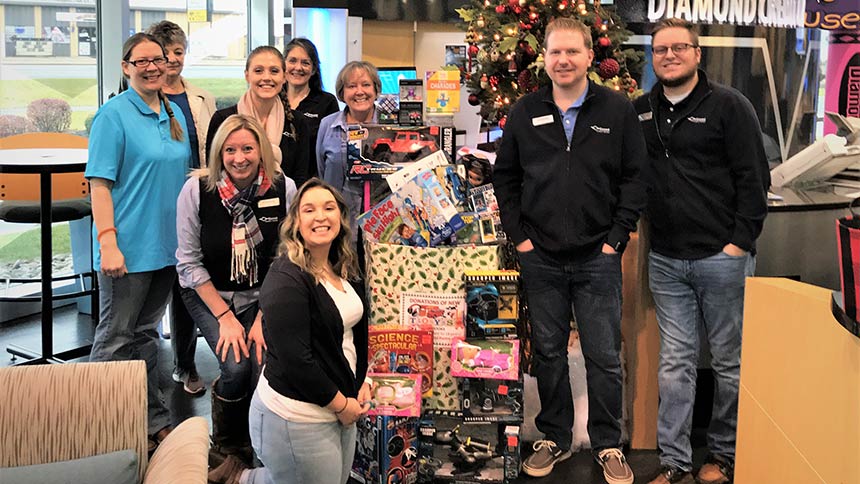 Above: Exeter Branch teammates and members came together to collect an impressive amount of toys for their community.
Exeter Branch Donates Toys for the Holidays
Throughout November and December, Diamond's Exeter branch participated in a Holiday Toy Drive that supports the Exeter Area Food Pantry. The total amount of toys donated came to over 100, which will go directly to children in the Exeter community.
Diamond Gives Back to Salvation Army of Pottstown
Diamond held a holiday donation drive in support of the Salvation Army of Pottstown. Throughout November and the first half of December, donations of non-perishable food items were donated by both members and employees at Diamond's Pottstown branch. Over 400 food items were collected.
100% Employee Participation for United Way
This fall, all Diamond employees pledged donations to the United Way. Diamond's 186 employees raised a total of $27,959.25.
Diamond's Annual Pledge Drive benefits the United Way of Berks County and the United Way of Southeastern Pennsylvania. Employees are able to donate to the community impact fund or choose to send their donation to a specific United Way organization.
Diamond has been giving back to the United Way at full 100% participation for 19 consecutive years.
Shoot for Commyounity at the Reading Royals
Diamond and the Reading Royals have teamed up once again for "Shoot for Commyounity." Diamond's Shoot for Commyounity nights at the Reading Royals take place every Saturday night home game throughout the Royal's hockey season. Each night, a selected charitable organization takes a shot to win a donation for their cause.
So far this season, donations have been made to: Friends of the Reading K9 Unit, Boyertown Area Multi-Service, Mary's Shelter, Berks Encore, and Julia's Grace Foundation. Specific awards can be found here.
Winner's Choice Designer Purse Berks BINGO
The annual Berks Winner's Choice Designer Purse Berks Bingo for the American Cancer Society Relay For Life, raised over $6,000.
This year, bingo had a sell-out crowd of over 200 players at Grill Fire Company Social Quarters in Reading. The event included 20 regular games with a choice of prizes which consisted of various designer purses including: Coach, Michael Kohrs, Kate Spade, and many more. Additional features included specials, a 50/50 raffle, and a special game for cancer survivors.
Miller-Keystone Blood Truck Makes a Stop in Royersford
Diamond's Royersford branch partnered with their neighbor Starbucks and hosted a blood drive by Miller-Keystone Blood Center on November 21.  This was the Royersford branch's second blood drive since opening in the fall of 2018.  A record 14 people, both members and staff, donated blood.
The Miller-Keystone Blood Center's mission is to assist in saving lives by partnering with our community to provide a continuous supply of blood products and services.
Above/right: Representatives from Starbucks, Miller-Keystone and Diamond celebrate a successful blood drive.
Team Diamond Visits Local High Schools for Financial Reality Fairs
Diamond, along with other area credit unions, continued giving back in the form of Financial Reality Fairs at local high schools for the sixth consecutive school year. So far this school year, Diamond has attended Wyomissing High School, Pottstown High School, and Pottsgrove High School to provide valuable one-on-one financial coaching to the students. Reality Fairs are a hands-on, interactive, role-playing experience that teaches the students valuable lessons about finances and budgeting.
Tower Health Reading Hospital Road Run
On Sunday, October 13, over 600 runners participated in the Reading Hospital Road Run Half Marathon, 5K, and 1-Mile races which resulted in a huge success. The Reading Hospital Road Run benefits the Friends of the Reading Hospital, which is a nonprofit organization that funds programs to improve healthcare throughout the community. Diamond Credit Union was proud to once again be the Tower Sponsor of this annual event.
Diamond Gets Spooky for Boyertown's Halloween Parade
Diamond's Boyertown branch, along with other employees, participated in the 2019 Boyertown Halloween Parade. For the very first time, Diamond won first place in the commercial category for their "Stranger Things" inspired Halloween float. It's safe to say that Team Diamond defeated the Demogorgon.
Above/right: Boyertown's first-place Halloween parade float.
Tower Health Reading Hospital Branch Takes Part in Gwen's Closet
Diamond's Tower Health employees, along with the help of Tower Health Reading Hospital employees, were able to donate over 150 clothing items to Gwen's Closet by selling chocolate covered pretzels and raffling off theme baskets made by the branch team.
Gwen's Closet began when Reading Hospital social worker, Gwen McNeil, saw a patient leaving the hospital in just a gown and she was determined to make sure something like this never happened again. Gwen passed away about a year ago, and the Reading Hospital rallied behind Gwen's dream of giving back and named the clothing/funds donation program Gwen's Closet.
We Also Supported the Following Community Events: Exeter Township Festival of Lights, Exeter Branch Hot Dog Day supporting the American Cancer Society Relay For Life, Exeter Township Fall Festival, Santa Paws – American Cancer Society Bark For Life at the Limerick Veterinary Hospital, "Box of Warmth" Donation to the Boyertown Salvation Army, Junior Achievement at Pottstown Middle School, Intern Workshops for Financial Wellness at Tower Health – Reading Hospital, Trunk or Treat with Limerick Township, CommYOUNITY Outreach – Royersford Police Department, "Sponsor a Family" Project – Royersford, Make the Switch & Make an Impact Royersford Branch Initiative – $1200 raised for Julia's Grace Foundation, Falker Swamp Nursery School Ladies Night Out, Boyertown Pickfest, Lauren's Foundation Fitzy's Halloween Run, The Reading Hospital Foundation, and the Rudolph Run for Limerick Township.
Thank you
Thank you to members, board of directors, staff, and business partners who joined us in giving back.
Giving back to our community … that's younity!