September 5, 2018
Once again, Diamond looks forward to another school year and another opportunity to help local students succeed. From backpacks to scholarships, Diamond Credit Union is proud to provide continued support to students this school year and throughout their education.
---
Scholarships Awarded to Six Local Students who Give Back to the Community
Every year, Diamond Credit Union awards the Alfred A. Panfile Memorial Scholarship to several local students who are chosen by the faculty and staff at five local schools in the area. The winners of this scholarship are known to exemplify the spirit of Alfred A. Panfile – one of Diamond's loyal members and a long-time component of the credit union's Volunteer Board of Directors. Panfile was a true inspiration to his colleagues due to his unwavering commitment to making his community a better place. The recipients of the Alfred A. Panfile Memorial Scholarship are students who exemplify Panfile's dedication to the community, volunteerism, and making a positive impact in the world around them.
Diamond is proud to announce the 2018 Alfred A. Panfile Memorial Scholarship recipients.
Pictured left to right, top to bottom: Pottstown High School graduate, Michael Baker, who is attending Robert Morris University; Exeter High School graduate, Faith M. Amole, who is attending Alvernia University; Boyertown High School graduate, Amanda Murray, who is attending St. John's University; Wilson High School graduate, Sarah Haggerty, who is attending the University of Maryland; and Tower Health Reading Hospital School of Health Sciences students, Stephanie Siwik and Rikki Smith.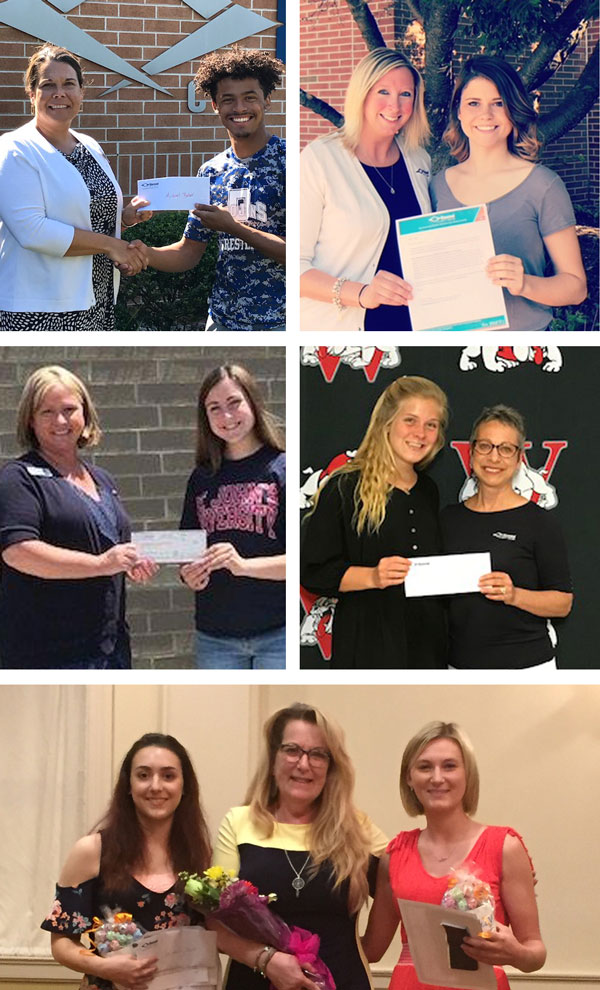 ---
Employees Donate School Supplies to Local Organizations for this School Year
For the eighth consecutive year, Diamond Credit Union employees were happy to participate in United Way's "Backpackathon", which entails donating school supplies to local charitable organizations to help students in the area start off the school year on a positive note, regardless of their family's financial situation. Team Diamond graciously donated 13 large boxes of essential school supplies along with over 20 backpacks.
In early August, several Diamond employees delivered the supplies to two local United Way Organizations; Pottstown Family Center and Boyertown Area Multi Service. These organizations will distribute the school supplies to the students. Diamond's Human Resources Associate, Heidi Stelzpflug, took the lead on organizing the school supply drive for the first time. "Following Diamond's Core Value of taking initiative to make an impact, it is super important to not only myself but all of Diamond to maximize the potential of the youth in our community," said Stelzpflug.
The Pottstown Family Center and Boyertown Area Multi Service are organizations that are dedicated to improving the lives of families, children, and senior citizens in the area. We encourage everyone to check out these marvelous organizations and volunteer your time to help improve the community.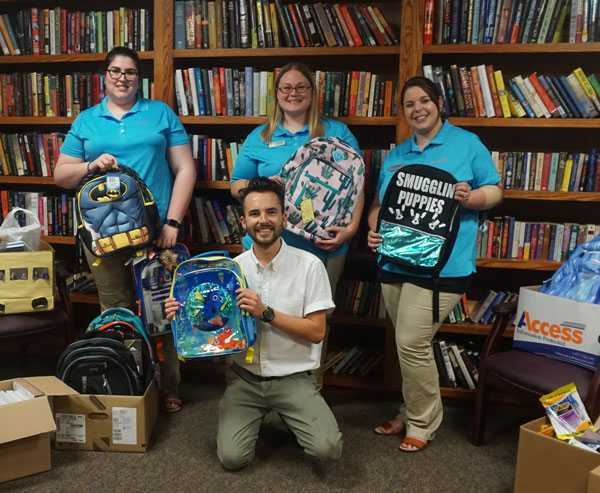 Diamond employees display just a few of the many items donated in the United Way's Backpackathon 2018.

Supporting students throughout their education…That's younity!