July 9, 2021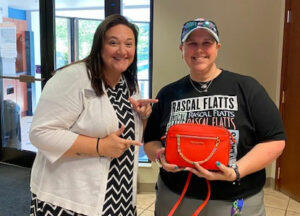 Photo: Pottstown Branch Manager, Tara D., presents a purse lottery winner with her Micheal Kors purse.
For the entire month of June, 335 people participated in Diamond Credit Union's first Designer Purse Lottery to support the American Cancer Society's Relay For Life. Together, the Diamond community raised over $9,300 to support a cause that is of great importance to the organization.
How the Designer Purse Lottery worked
In the past, Diamond has hosted the annual Designer Purse Bingo to support Relay For Life. Diamond wanted a way to raise money to back a great cause while adapting to the Covid-19 restrictions at the time. That is where the Designer Purse Lottery came in.
Participants purchased tickets with three numbers on them. When the evening Pennsylvania Lottery Pick 3 announced the winning numbers, the person or people with corresponding numbers won one of the 30 designer purses.
Each night a different designer purse brand was up for grabs. In the mix were: Michael Kors, Kate Spade, Dooney and Bourke, Tory Burch and Coach.
The result
This fundraiser resulted in 14 lucky winners. Something that was even better than some participants having new purses, the Diamond community had the opportunity to raise money for a good cause.
Thank you to the participants and staff that made this event possible.
Supporting a good cause while having fun…that's younity.