August 8, 2019
Diamond Credit Union has been out & about over the past couple months making a difference in the lives of so many people and supporting local organizations in the community.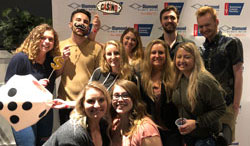 Diamond Went "All In" for Relay
Diamond's All In for Hope 2019 is much more than your average Beef & Beer. With the added game element along with great music and food, it's always an amazing time. Over 130 people came out to BlackJax American Pub & Grill for a night of food, drinks, table games, and a beer pong tournament. In total, this event raised a total of $5,000 for the American Cancer Society Relay For Life.
Winner's Choice Designer Purse BINGO
The fourteenth annual Winner's Choice Designer Purse Bingo for the American Cancer Society Relay For Life, sponsored by Office Service Company, raised nearly $6,000. This year, bingo had a sell-out crowd of over 200 players at Norco Fire Hall. The event included 20 regular games with a choice of prizes, 3 specials, refreshments, door prizes, a 50/50 raffle, and a Jackpot raffle.

Diamond Participates in "Preston's Pantry" Donation Drive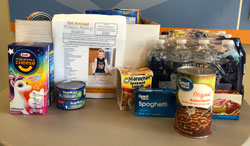 In honor of Preston Dray, the 9-year-old boy who lost his life along with his pregnant mother Pamela Vera during the July 11 flash flood incident in Pottstown, PA, Diamond is taking part in the first annual Preston's Pantry donation drive. Donations have been collected at both Diamond's Pottstown and Boyertown branches and are being made by members and employees. All donations benefit the food pantry at the Boyertown Multi-Service and are being collected through August 16, 2019.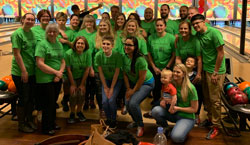 Bowling for a Cause
On Saturday May 4th team Diamond participated in Big Brothers and Big Sisters Bowl for Kids' Sake held at Berks Lanes Bowling Alley. The mission of Big Brothers and Big Sisters is to create and support one to one mentoring relationships that ignite the power and promise of youth. This year, Diamond had a total of 6 teams who were able to raise a grand total of $2,546 for the organization.
Scholarships Awarded to Six Community-Oriented Local Students
Alfred A. Panfile was one of Diamond's loyal members and a long-time component of the credit union's Volunteer Board of Directors. Panfile was a true inspiration to his colleagues due to his unwavering commitment to making his community a better place. The scholarships are granted to students who embody Panfile's dedication to community involvement and volunteerism. With the addition of Diamond's sixth branch in Royersford in 2018, this year Diamond awarded six student scholarships at local high schools including Springford High School.

The 2019 Alfred A. Panfile Memorial Scholarship recipients (pictured L to R with Diamond branch managers):
Exeter High School Graduate, Morgan Specht, attending Villanova University.
Wilson High School Graduate, Cameron Cavanaugh, attending Virginia Military Institute.
Tower Health Reading Hospital School of Health Sciences student, Marissa Ramich.
Boyertown High School graduate, Kreena Patel, attending the University of the Sciences.
Springford High School Graduate, Lauren Beccaria, attending West Chester University (not pictured).
Pottstown High School graduate, Ali Asgar, attending Lehigh University (not pictured).
Diamond's Exeter Branch Staff Visits the Opportunity House
On the morning of Sunday April 28th, the staff of Diamond Credit Union's Exeter Branch made a stop at the Opportunity House in Reading to make a large breakfast for the individuals and families. The Opportunity House changes lives by educating, housing, feeding, and empowering people to stand on their own feet.
"Myself, as well as my team, love giving back to the men, women, and children at the Opportunity House," said Cori Garber, Manager of Diamond Credit Union's Exeter Branch. "It is such a rewarding experience to see the happy and appreciative faces of the members of our community."
Team Diamond Attends Exeter May Days
During the second weekend of May, Diamond Credit Union's staff participated in Exeter May Days by having a fun "Go Fish" booth to help raise funds for the Exeter Community Education Foundation (ECEF). The event is held to increase funding and awareness for ECEF and support the youth in our community. Along with Diamond's booth, the Exeter May Days included live entertainment, food trucks, activities for kids, and fireworks.
Diamond Employees Saving Lives with Blood Donations
The Miller-Keystone Blood Center truck stopped by Diamond's Pottstown and Royersford branches on June 11 and July 11 for Diamond employee blood donations. This was the Royersford branch's first blood drive since opening in the fall of 2018, and the new branch employees were excited for the opportunity to help save lives. The Miller-Keystone Blood Center's mission is to save lives by partnering with our community to provide a continuous supply of blood products and services.

"Diamond Credit Union recognizes the importance of being active and supporting the individuals and organizations of the community we serve," stated John Faust, President/CEO of Diamond Credit Union. "I am so proud to work with such amazing people who contribute in so many ways."
Making a difference in the community we serve…That's Younity!